GENERAL EXAMINATION

PATIENT HISTORY

BMI CHECKING

BP, PULSE, HEART RATE

BMD (BONE MARROW DENSITY)

PFT (LUNGS HEALTH)

PATHOLOGY TESTS
CBC
CEA
CA 19.9 (PANCREAS CANCER)
CA 15.3
CA 125 (OVARY CANCER)
AFP (LIVER CANCER)
BENCE JONES PROTEINS / MONOCLONAL IMMUNOGLOBULINS
BETA 2 MICROGLOBULIN
CALCITONIN
LDH
PAP SMEAR
RADIOLOGY TESTS
CHEST XRAY

USG (WHOLE ABDOMEN & PELVIS)

MAMMOGRAPHY / SONOMAMMO
CONSULTATIONS
PHYSICIAN CONSULTATION
PACKAGES PRICE
₹ 30,620
OFFER PRICE
₹ 20,999
FULL BODY CHECKUP ADVANCE - MALE
FULL BODY CHECKUP ADVANCE - FEMALE
OSTEOARTHRITIS HEALTH CHECKUP
CARDIAC SCREENING - ADVANCED
SR. CITIZEN FULL BODY CHECKUP - MALE
SR. CITIZEN FULL BODY CHECKUP - FEMALE

Let us care for you right at your home and take miles off your health check journey!
4 easy steps to book a home visit for yourself.
1. Book a test
Find the Health Test you are looking for, and book a home visit.
2. Sample Collection
We will collect the sample from your doorstep ensuring the highest safety.
3. Report
Test reports can be downloaded easily from Email, SMS, and WhatsApp.
4. Consultation
To understand your reports better, get free doctor consultation.
DiagnoLounge is a complete diagnostic services center based in Goregaon (W), Mumbai offering a range of diagnostic services including various corporate wellness programs. The center offers specialized services for corporate houses, which cover the entire range of services from preventive diagnostics to wellness programs to insurance.
We are associated with various companies to conduct health check-up for their employees and yearly health check-up, for its patrons. Insurance Company
Check-Ups
HealthCare Camps
At Your Doorstep
In an effort to promote community health and well-being, Diagno Lounge is thrilled to announce its upcoming Healthcare Camp for the local society. With a strong commitment to fostering healthier lives, the camp aims to provide valuable medical services, education, and resources to individuals of all ages. 
Comprehensive Health Screenings
Educational Workshops
Consultation Stations
Health Information Booths
Fitness Demonstrations
Children's Health Corner
Community Engagement
Join us at the Diagno Lounge Healthcare Camp and take a proactive step toward a healthier and happier life. Your well-being matters!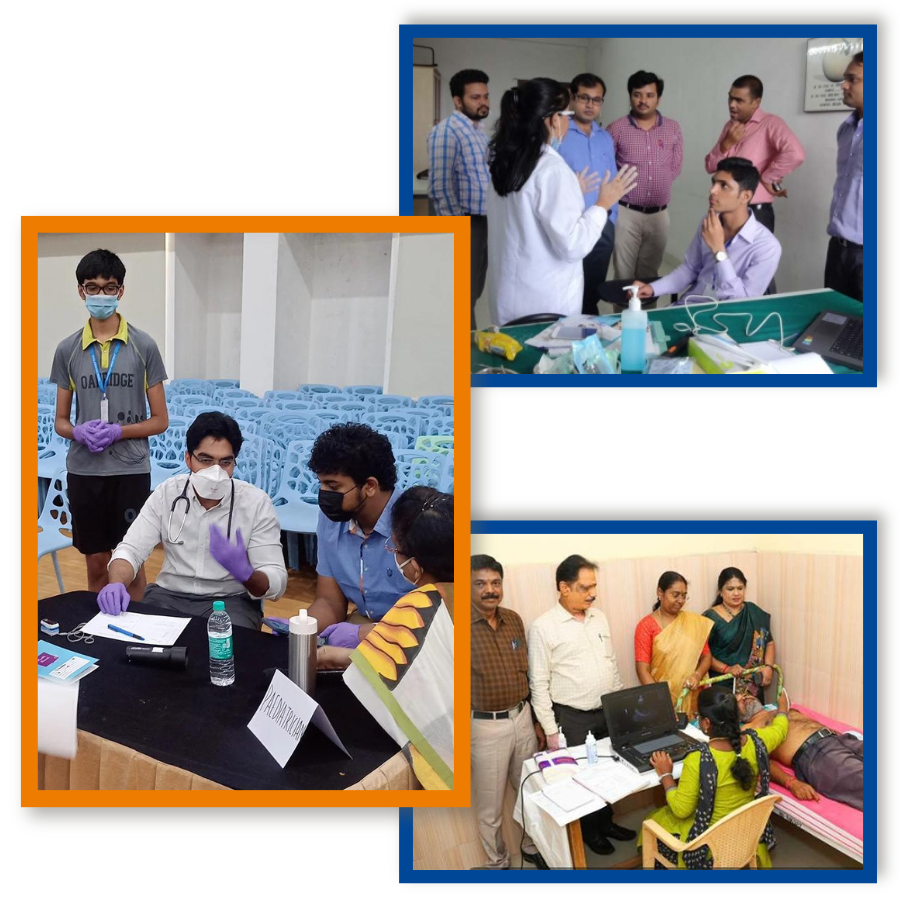 Real stories, Real results
Done with the Medical Test here, All the Test was done in proper way, Every Staff here are so humble and helpfull. Rupali ma'am handle the Operations so smooth and in a good manner. Satisfied with the service & the Service is beyond the given stars. Thankyou 🖤🤗
So would love to share a great feedback for this lounge .All the staff present over here was truly amazing and very much helpfull in all the necessary ways required.Felt very much relaxed and didn't take a lot of time to complete my checkup . Would like to specially thank the team for their kind support and all the necessary help required.